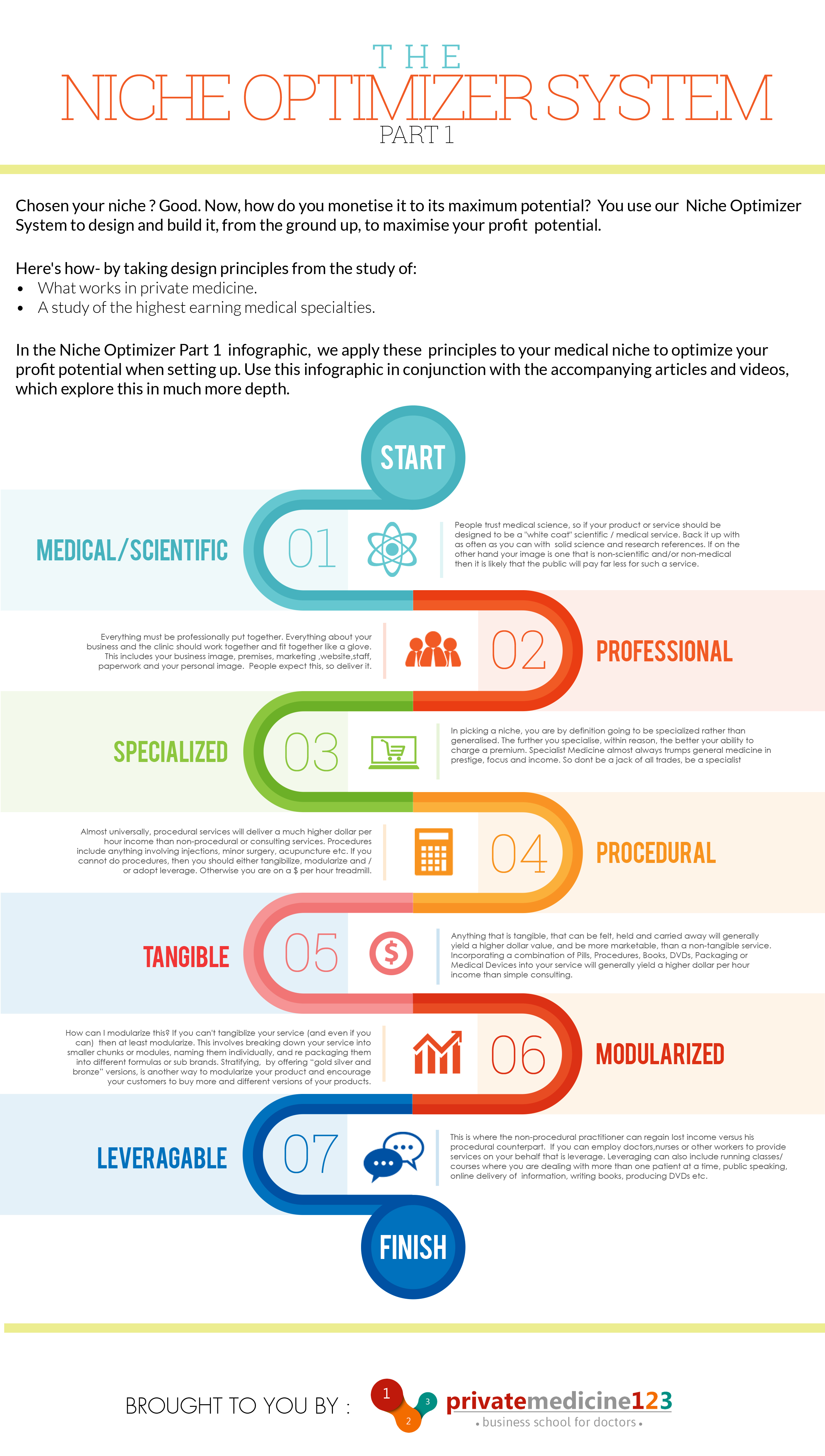 Selecting and Mastering Your Niche
Why Do You Need a Niche?
FOCUS, EXCELLENCE AND MASTERY.
It is just so much easier to achieve this if you focus on a narrow branch of medicine.
Specialists almost always trump Generalists in prestige, job satisfaction, pricing power and income.
If you are a General Practitioner / Family Medicine Doctor, this does not mean that you have to change your entire  working week.
You can practise in your medical niche for just a few hours a week, or a couple of days per week.
This may eventually evolve into a full time lucrative medical career, but initially, a part time niche is just fine.
Remember, if you wish to create a lucrative medical sideline,  you WILL need to NICHE DOWN and SPECIALIZE.
Selecting A Niche - The Basics
Don't worry if you have no idea of what niche to choose.
Our Niche Selector Checklist will guide you Step by Step to one that suits your Personality, Aptitudes, and Financial goals.
For your Ideal Niche, Ask Yourself 3 Questions:
Q2: Is This Commercially Viable?
Q3: Is This Professionally Viable?
Already have a Niche?
If you already have your niche, congratulations . Now run it through this checklist anyway. You will find a ways of optimising it for business launch. You may even end up changing your niche to a more suitable or lucrative one.
Still No Idea?
If you still have no idea what to specialise in, there is no need to e invent the wheel . We have researched and analysed what works in the real commercial medical world. Download our article: "10 Well-Proven Medical Niches that you can pick "Off-the-Shelf".
Now remember, you don't have to create the world's biggest business right from the start.
Simply select a niche that you can start within your current medical practice.
You don't have to move anywhere, re invent anything or do anything stressful just yet.
All you need to do is focus on a narrow branch of medicine that you are going to enjoy, and become excellent at it.
Need more inspiration? Read through the articles below…..
A quick Multiple-Choice question for those of you who are feeling overwhelmed at the idea of setting up your own private medicine niche. Please answer the following question. Q: For anyone intending to set up their own private niche medicine clinic, what would most...
read more